Composite Deck Builders Oregon City
Do you want to build a new deck? Our team of skilled Composite deck installers are ready to help you.
Get Your FREE Quote Today
Composite Deck Builders Oregon City
Oregon City Decks is one of the leading deck building and repair companies in the Oregon City area. Our competent team of deck builders have worked on hundreds of Oregon deck building and repair projects. Each project is handled with utmost care.
Composite deck builders Oregon City offers professional deck repair services to keep your deck safe and beautiful for a long time.
Call us today to connect with the best deck repair and installation experts in Oregon City, Clackamas, Happy Valley, West Linn, Wilsonville, and the Lake Oswego area.
We also provide waterproof decking services for your residential and commercial properties. Other services include swimming pool deck building and repairing services for your homes and commercial areas.
We are here to assist you in building the deck of your dreams.
Call us today for a hassle-free service and free estimates for our deck building and deck staining services.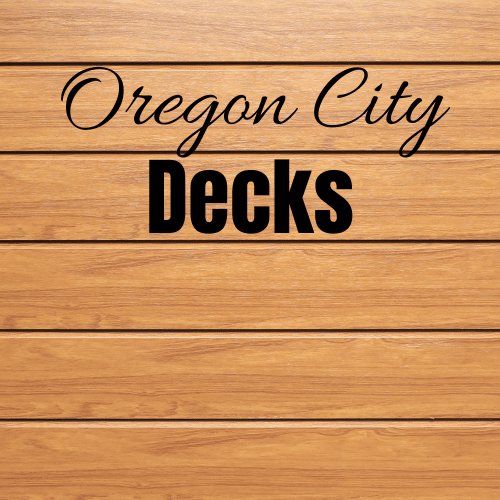 Oregon City Decks, Trex Gold Installers
We are Oregon's number one deck building and design company, providing the best-customized deck construction and cleaning services. Our composite decking contractors are here to help you whether you want to build a new deck or need assistance with deck inspection.
Get your free custom deck estimate today.
Our composite decking installers in Oregon City work hard to create a beautiful custom deck that fits your space and uses only the best decking materials. We are the Trex Gold deck installers, replacing your old deck with a Trex deck.
These waterproof decking materials are the most durable and long-lasting, ensuring that your investment in your dream deck will last for many years.
Are you looking for something unique? Oregon City Deck builder planner has the most significant crew in the industry. Being Trex Gold contractors, we use only high-quality, recyclable material.
What does this mean for you? That we can build the top-quality deck, pool, pergola, or backyard of your dreams. After all, in Oregon, your deck, patio, or balcony is frequently the focal point of your home.
Trex composite decking materials are a low-maintenance alternative to traditional wood decking. The best deck building company provides a selection of grey, brown, and red boards to mimic your favorite wood tones, all of which have the following benefits:
Made from 95% recycled materials.
No rotting, splintering, splitting, or cracking.
100% termite proof
Fade-resistant
25-year guarantee
Oregon City Decks are the Gold Trex affordable deck builders dedicated to building high-quality decks with Trex products.
Trex has over a dozen color options to match any home's exterior, so start by browsing the selection. We are happy to answer any questions about the materials, design, or installation process.
Oregon City Decks builders are a licensed contractor installing Trex custom decks. 
Our deck building company has the best deck refinishing contractors for your composite decking.
You can contact us if you are looking for composite deck builders in oregon because we are the best Portland deck building companies.
Deck Installation and Repair Services
Do you need a deck repaired or a new deck installed? No need to worry because we have the best team of deck repair contractors who are fully trained, licensed, insured, and bonded. Our waterproof composite decking installers specialize in deck repair, construction, and maintenance projects. Based on your vision and needs, one of our design specialists will assist you in planning and designing a new deck.
Please let us know if there is anything we can do to help you during the project because our company has the best deck project planner for top deck construction. All of our specialized services are designed to meet construction code and regulatory requirements.
We use pressure-treated lumber or composite decking contractors for new construction and replacement. We have a variety of deck-building materials for you to choose from. Our deck builders Portland Oregon offer deck restoration and repair services for damaged decks. We make sure to repair or replace any deck part that is causing an issue for you.
For your safety and the overall upkeep of the deck, we will maintain, replace, or reinforce all hand railings and joists.
• Deck planning, design, and deck building ideas.
• Deck frame construction
• Installation of pressure-treated lumber or composite decking
• Deck cleaning and staining
• Repair of stair stringers and baluster replacement
• Replacement of deck planks, posts, and stair treads
Call us today and get a free decking repair estimate for deck paint in Oregon City, Clackamas, Happy Valley, West Linn, Wilsonville, and Lake Oswego.
Custom Deck Construction Contractors for Your Projects
A custom deck is an investment that will last a lifetime. If you're considering adding a new deck to your home, we'll make the process enjoyable from beginning to end. Our deck builders Portland handle everything, from the initial drawings and permitting to the final product.
You can rely on us to handle everything about your deck project and keep you updated.
Our in-house architectural design team will follow your vision. The team will also ensure that your new design is structurally sound and adheres to all applicable building codes.
Advantages of Building House Decks with Our Deck Contractors
Whether replacing an existing structure or starting from scratch, adding a new deck has numerous advantages.
You can get a custom look, the features you want, and a composite decking installation from a leading Oregon deck builder when you work with Oregon City Decks. Other advantages of installing a new deck on your Oregon home include:
• Space: The added square footage is one of the most compelling reasons to build a new deck or porch on a single, two, or three-story home. We'll work with you to create a space where you can enjoy the outdoors without leaving your property.
• Appeal: A new deck improves the aesthetics of the landscape significantly. That is especially true when you work with professional custom deck builders like us, who provide design services and use high-quality materials.
• Value: Having an attractive and high-quality deck designed and built by professionals will always increase the value of your home. It will also impress potential home buyers, driving up the market value even further.
Oregon City Decks is a well-known deck contractor in Oregon City and the surrounding area. Our crew has extensive experience building single and multi-story decks on homes throughout the Oregon City, Clackamas, Happy Valley, West Linn, Wilsonville, and Lake Oswego areas. Our deck services include board, post, and stair replacement, new nail or fastener deck installation services, deck painting services, and surface refinishing. Please reach us if you need any deck refinishers, and we will provide you with a professional recommendation. We have been a licensed, bonded, and insured general contractor specializing in deck building and repairs for several years. We are headquartered in Oregon City but provide our services in Clackamas, Happy Valley, West Linn, Wilsonville, and Lake Oswego. 
Top Manufacturers Provide High-Quality Decking Materials
We work with top-tier companies like Trex and Timber Tech to provide you with the best options for all of your decking needs. Combining our dedication and well-trained team, we can guarantee outstanding results for your deck bundling project, regardless of size. Contact us today to bring quality into your life.  A well-designed customized new deck will increase your home's beauty and value while providing a functional outdoor space for you and your family for years. Request a Free Deck Construction Quote in Oregon City If you're thinking about adding a new deck to your home or repairing an old one, we'd love to help you make your vision a reality. Our outdoor deck builders are happy to provide a quote for your deck rebuild or deck addition in the Oregon City area. To get started, send us a message using our contact form.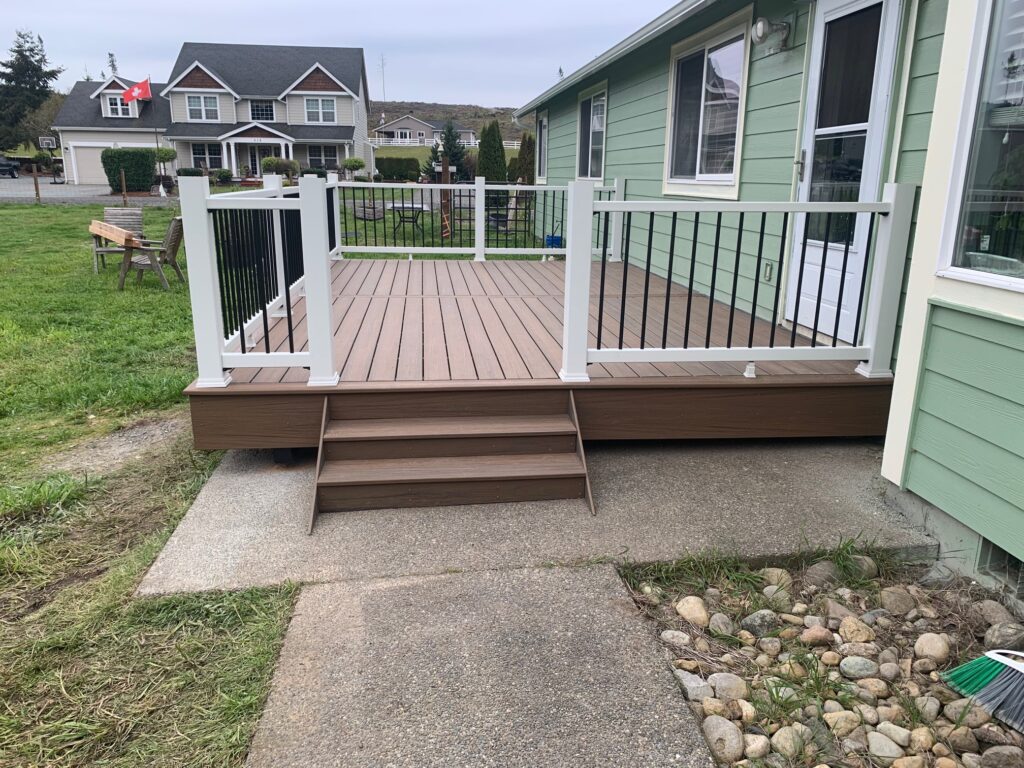 Design and construction of a deck
Do you want a new deck, or are you tired of your current one? Building a new custom deck with custom deck builders is a fantastic way to turn your outdoor space into a new luxurious oasis.
Increase the value and appeal of your outdoor living space by adding an aesthetically pleasing, highly functional, custom-designed, custom-crafted deck to your home. 
Oregon City Decks can customize your deck to meet all of your deck and outdoor living space needs.
We have extensive experience in building new decks and repairing old ones. Oregon City Decks is a full-service deck design and deck building company serving the residents of Oregon City, Clackamas, Happy Valley, West Linn, Wilsonville, and the Lake Oswego area.
Full-Service Deck Repair Pros
Composite deck builders Oregon City are a team of Licensed and Bonded Certified deck staining contractors who can back up your claims with customer references, reviews, and craft. You can contact us with confidence today for a free consultation. We use beautiful prime cedar for wood decks and decking materials like Trex and Timber Tec for composite decking. We believe in using high-quality materials, exceptional craftsmanship, and attention to detail for making your dream deck. Whether you need a simple basic deck, or a sophisticated multi-tiered wooden masterpiece, we build decks that look great and last long.
Decks Are Our Specialty
A deteriorating deck can frequently indicate the presence of other underlying issues, such as dry rot. Oregon City Decks is Oregon's most experienced and knowledgeable waterproof deck repair specialist. No matter how you want to repair your deck, you can discuss your requirements with our team, and we will devise the best solution for you. We are well-equipped to handle any size of residential or commercial deck repair and building project.
Deck Staining

Deck Building

Deck Leaks Repair
Decks Built Over Living Space Are Prone to Leaks
Composite deck builders Oregon City, a well-known deck contractor in Oregon, specializes in building and repairing decks. Water can usually pass safely through deck boards to the ground, and if your boards and posts are protected and maintained, your deck will last a long time. If your deck is higher than your living space, it must be sealed and flashed along the sides and where it connects to the house. You should contact composite decking contractors for any deck service in Oregon and the surrounding areas.
Avoid Mold, Mildew, and Dry Rot.
Water can penetrate the outer layer of your deck roof due to faulty seals or the deck ledger and pass through the protective exterior products of your deck roof, indicating that it needs repair. As a result, it will cause damage, mold, mildew, and, if left untreated, dry rot may occur. Hire a deck repair contractor specializing in all aspects of the job, especially decking, water-resistant barrier repairs, and dry rot repairs.
Call Portland deck building companies if you are looking for composite local deck builders or deck cleaning services in Portland Oregon.
Decks are a fantastic feature to add to your new or existing home. First on the list of priorities of many homeowners when it comes to home remodeling involves building a deck.
IN THE OREGON CITY AREA, WE ARE THE MOST TRUSTED DECK BUILDERS.
We are the leading residential deck builders and deck resurfacing company in the Oregon City area. From the first meeting, until the project is completed, we bring experience, commitment, and competitive pricing to the table.
A deck can be a valuable addition to a home and transform your backyard into a stylish outdoor living space. Oregon City Decks has built and installed decks in the Portland area for a wide range of clients who are either businesses or homeowners.
Custom Deck Builders Oregon City is the deck contractor who can make anything possible with the skillful and competent deck building team. We are the number one choice for your deck projects in Oregon City, Clackamas, Happy Valley, West Linn, Wilsonville, and Lake Oswego.
We have fully trained and experienced deck-building crew members working in different areas of the Portland metro. We believe in providing our clients with unique benefits and warranties like no other.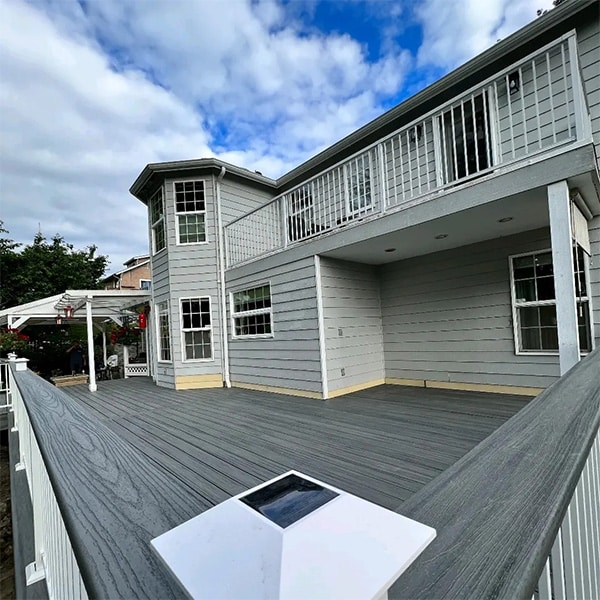 We understand the value that a deck and a unique outdoor space can add to family gatherings. We know how to make any construction dream a reality because we have over decades of experience building and designing decks.
Your backyard parties will improve dramatically, and your yard will become a popular gathering place after installing a beautiful deck at your property.
Call us today for residential deck permit and construction guidelines because we are the best residential deck company.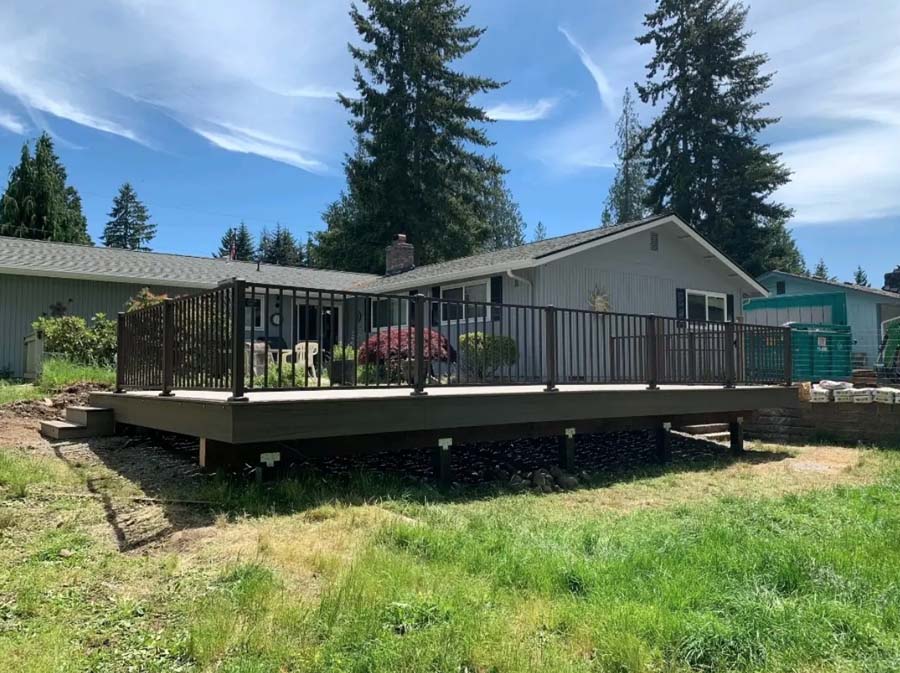 Contact us and let us help you make your Oregon City area commercial property more functional, beautiful, and valuable.
Only Oregon City Decks can provide unmatchable deck replacement and repair services in Oregon City, Clackamas, Happy Valley, West Linn, Wilsonville, and Lake Oswego areas.
Get a free quote right now and see how we can increase the value and functionality of your property with a stunning new commercial deck contractor.
Look no further if you need professional commercial deck contractor in Oregon City, Clackamas, Happy Valley, West Linn, Wilsonville, and Lake Oswego. 
Oregon City Decks provides the top deck construction services for commercial and residential properties in Oregon.
We are your waterproof deck-building company when you need to add a deck to your commercial or residential property to increase the beauty and space.
We can help you beautify your property's exterior, improve functionality, and provide the extra seating area you need for your commercial property in the Oregon City area.
The beauty of working with us is that we use our unique skills and talent to ensure that the decks perfectly align with all landscape features. With deck installation, we can help you improve the appearance of your commercial property.
Our previous commercial deck building projects have included offices, restaurants, hotels, commercial buildings, and aluminum decks. Adding a deck to your Oregon commercial property adds value and space for your company to grow.
We make dreams come true with island decks, detached decks, wraparound decks, multi-level decks, sideyard decks, swimming pool decks, and entryway decks, among other things.
Building a deck outside your home is a wise decision and an excellent investment. When the weather is nice, your deck is one of the most relaxing places to sit and relax.
You can use your deck for grilling, sunbathing, and entertaining, especially during the summer.
With all of the advantages a deck provides, keeping it in top condition is critical. Decks are still susceptible to damage, even though most are built to withstand extreme weather conditions and years of direct sunlight exposure.
When your deck is damaged, you must contact the appropriate person to have it repaired. We have many years of experience installing and repairing decks for businesses and residents in Oregon City, Clackamas, Happy Valley, West Linn, Wilsonville, and Lake Oswego.
We provide a wide range of commercial and residential deck services, including deck construction, deck repair and restoration.
Decks built by inexperienced deck builders may risk their structural integrity. You need only trust the experts with experience and training for your deck-building projects.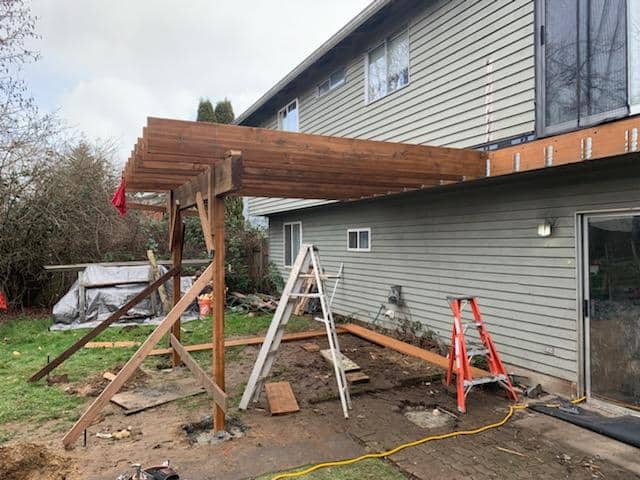 Examine the structure's decks to ensure that the joist hangers, post connections, and ledger boards are all secure and complete. If you are unsure about assistance or connections, please contact us immediately to assess and resolve the situation.
These are the most common deck problems. If you notice any of them on your deck, please contact us so that we can assess and correct the situation. For all of our services, we provide a free quote. Call Oregon City Decks today for your deck replacement, repair, and maintenance needs.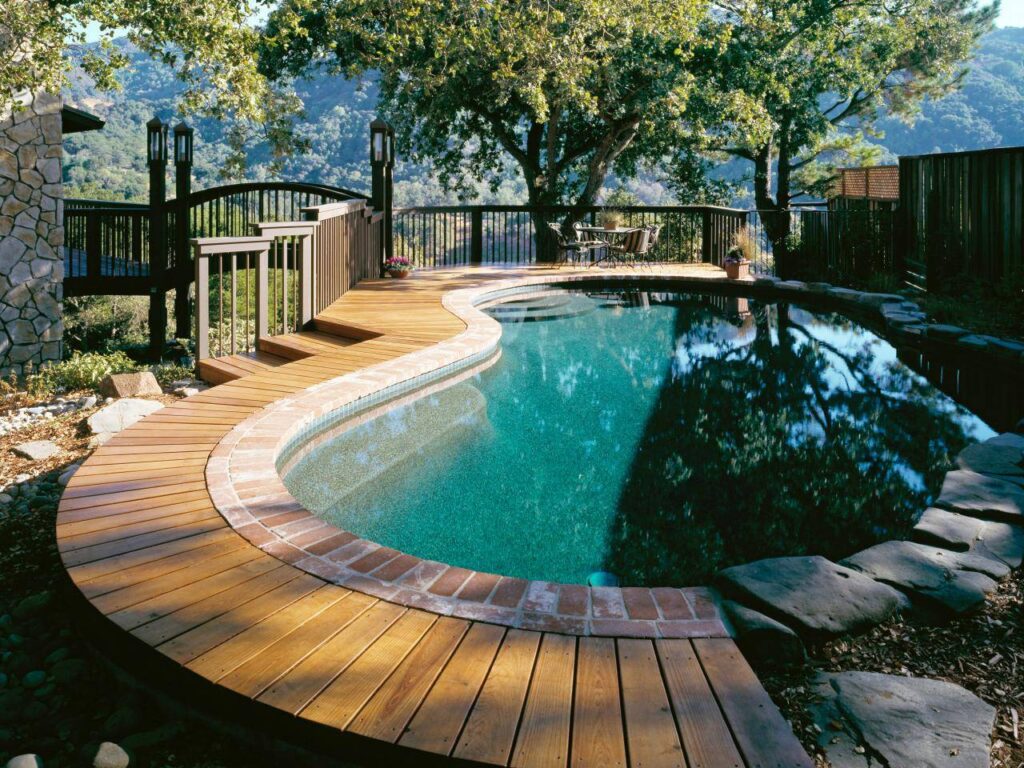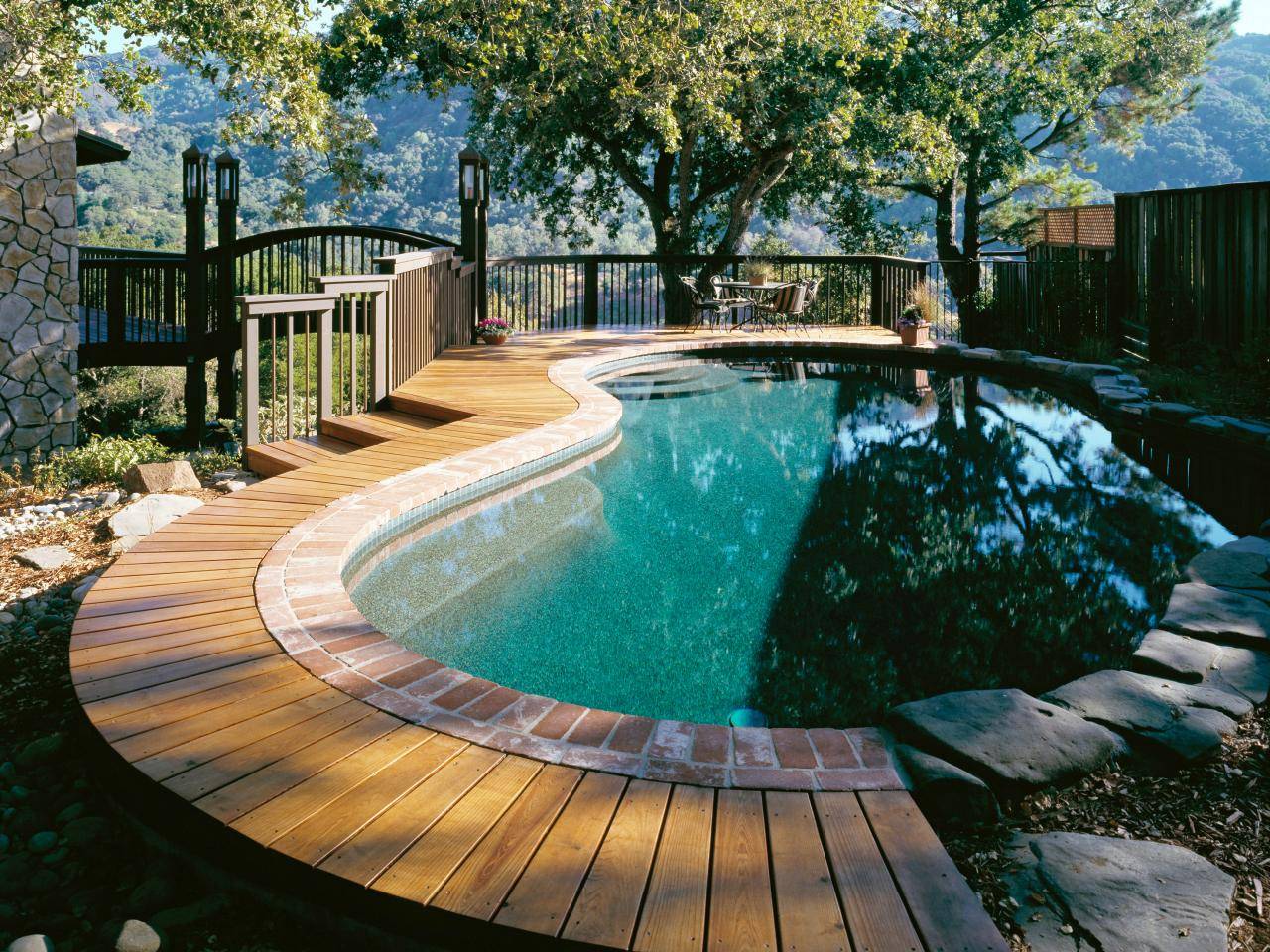 We can assist you in upgrading and updating your pool deck for increased durability, appearance, and safety.
We collaborate with homeowners to recreate, redesign, and repair decks to current specifications. If your Oregon City pool deck is outdated or damaged, we will gladly assist you in restoring it to a modern appearance at a reasonable cost.
Call us today for swimming pool deck ideas and pool decking contractors.
Add outdoor space to your Oregon City home by installing a swimming pool deck.
When adding a swimming pool deck, you must obtain the proper architectural guide, use the appropriate materials, and collaborate with the best concrete pool deck contractors in the Oregon City area to give your home the beauty it deserves.
Every aspect of the design and installation adds value to your home and influences the overall appearance of your property.
Above ground pool deck builders team can help you increase the value of your property by installing cutting-edge pool decks. In every project, we prioritize your needs, ensuring that we meet your design and quality standards. We offer pool deck repairs at very affordable rates to all Oregon City, Clackamas, Happy Valley, West Linn, Wilsonville, and Lake Oswego residents.
Swimming pools of all sizes, as well as the vinyl pool decks that surround them, are significant investments. It is critical to ensure that your above-ground pool decks are long-lasting, safe, and appealing.
Our skilled team at Oregon City Decks provides pool deck coating services that will improve the appearance and quality of your entire yard. These and other composite pool decking services will help make your pool safer and more enjoyable.
Choose only Oregon City Decks team for your next deck project. These guys are amazingly skilled and super reliable.
My go-to deck guys in Oregon are the Oregon City Decks guys. I love their friendly crew and their passion for deck building. 100% recommended.
My house looks lavish after Oregon City Builders added a new deck to my property. The team is fully skilled and knows their job. Highly recommend it to everyone in Oregon City.
My new favorite team of deck builders in Oregon, The Oregon City Decks team. These guys are super reliable and trustworthy.
I only trust Oregon City Decks guys for any deck related service at my property in Happy Valley. They are my go-to deck builders and repair experts.
Yesterday the Oregon City Decks team worked on my deck in Oregon City. I really liked their work. They are very fast and expert in their service.
I want everyone in Lake Oswego to trust the best deck builders in the area, Oregon City Decks. They are a fantastic team to work with. Highly Recommended.
The Oregon City Decks team made my day today by building a deck of my dreams at my house in West Linn. They were very friendly and fast. I loved their service 100%.
I cannot trust anyone other than Oregon City Decks experts for building services. They are the best deck guys with affordable rates.
Today the Oregon City Decks experts repaired my old deck at my Clackamas house. They were super quick to complete the work withing hours. I am happy with their quick service and relaibility.
Oregon City Decks is one of the leading deck building and repair companies in the Oregon City area. Our competent team of deck experts have worked on hundreds of Oregon deck building and repair projects.
Please Call us or contact us online to schedule a consultation for your project.